Inauguration of the Qatar room at the Palais des Nations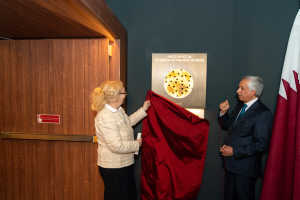 In Geneva on 23 November 2017 - A Memorandum of Understanding between the United Nations Office at Geneva and the State of Qatar was signed for the renovation and refurbishment of Room XIX of the Palais des Nations. Two years later the room was inaugurated by Director General Ms Tatiana Valovaya and the Minister of Qatar.
The renovation agreement was signed by the former Michael Møller, Director-General of UN Geneva, and H.E. Ali Al-Mansouri, Permanent Representative of Qatar to the United Nations and other international organizations in Geneva.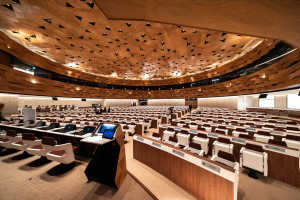 Built and decorated in the 1970s, room XIX is an important part of UN Geneva, one of the largest conference centres in the world, which, last year alone, hosted more than 12,000 meetings and conferences. With a capacity of 941 seats, the room is now in need of a thorough renovation and upgrading of facilities to ensure its compliance with energy efficiency, safety, accessibility and state-of-the-art conference servicing requirements.
Qatar have funded the full cost of the renovation, estimated at 20 million CHF.
"The State of Qatar's contribution to the renovation work at the Palais des Nations comes as part of the great interest Qatar attaches to its strategic partnership with the United Nations and the relentless and unwavering support it has been providing to the Organization's activities," said Ambassador Al-Mansouri. "This donation, in recognition of the UN's tremendous efforts, is also in line with Qatar's commitment to achieve the UN's goals and emphasises Qatar's continued efforts in support of a better and brighter future for all. We are confident this renovation will create more favourable working conditions for representatives of the international community."
Qatar's generous donation contribute to the realization of the Strategic Heritage Plan, which will lead to the complete renovation of the Palais des Nations by 2023.
Ekaterina Pinchevskaya