"THE DREAM OF A CHILD" Interview with Abd A. Masoud, Artist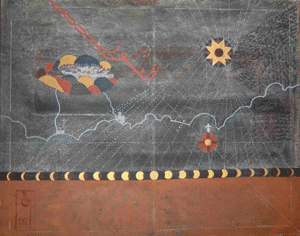 The Dream of a Child is the story of a child's dream. It can be any child, your child, my child, your niece or nephew. Abd A. Masoud is a true artist with a big heart. He is rather reserved and likes to live a quiet and modest life in Austria where he has also opened a gallery where other artists may exhibit their work free of charge because, he says: "being an artist is not easy and many are facing very hard times these days."
It was after having seen a documentary film on television that he had the inspiration for the sixteen paintings showing The Dream of a Child –– about independence, family, peace, etc. Each painting shows a different dream and tells a story about what children really want. In co-operation with all Jordanian Embassies abroad the artist will donate the artworks for charity. The whole series will be sold at auction in Amman and all proceeds will go to benefit a child welfare association in Jordan. We had the opportunity to meet the artist here in Geneva where he is showing his "story" before it goes to Budapest in April. So now we leave the floor to Abd Masoud…
Q: How did you get the idea for the exhibition?
The main idea behind this exhibition came about three years ago, when I was watching a documentary film on TV on violence towards children around the world. In this film, one of the children was talking to older people and said: "Let us live our childhood" and another one said: "Let us live in peace." So these words remained in my mind. I started to make notes for this story, The Dream of a Child, and then I started to sketch these sixteen paintings. One day, while talking to the Jordanian Ambassador in Vienna Mr. Queisi, I was requesting his support for this exhibition. We showed it for the first time in the United Nations Building in Vienna and now, thanks to His Excellency Mr. Madi, here in Geneva.
Q: Are you a full-time artist?
I left my job in the Jordanian Embassy four years ago and started a private art gallery in Vienna. It's a not-for-profit association, and I'm trying to connect artists from different countries without charging any fees. I bought an old house in Vienna that I have renovated. The space was there so I wanted to give other artists a chance to exhibit their work. My full-time job is painting and my second occupation is running the art gallery.
Q: How do you manage, because it's not easy to be an artist in this time of economic turmoil?
I am trying to live a very simple life and to be content. To live as a contented person you do not need much in life –– food, thank God I'm not starving! I have a shelter. I have good friends and people around me. I'm healthy. I have my wife near me … so I do not need much.
Q: You were trained to be an economist and to work in finance. How did you venture into the arts?
It's really a funny story. I was a smoker, but the only place I smoked at home was in my "working space" in the cellar. Then I started wood-carving, and with time I was doing more and more wood-carving. I have two good friends restoring old works of art, and they helped me a lot with the technical skills. So I started to restore old furniture. In the beginning it was mainly woodwork, and then I started to use canvasses and acrylic. It just went on and on and in this way I quitted smoking.
Q: Was it easy going from business to art?
In the beginning my artworks were only shown to my friends. Since 2008, when I started the gallery, I started to show my artworks, paintings and sculptures together with other artists. I'm trying to keep my artworks for me and my friends and those who visit my gallery. I also exhibit when I find a suitable opportunity, like here at the Palais des Nations in Geneva or in Vienna. The next one will be in a Museum in Budapest and it's the same thing: The Dream of a Child. I only exhibit in suitable places.
Q: What is your main message?
As a stranger living in Europe, I want to show that strangers are not bad people. As a Jordanian, I'm proud to show that we the Jordanians are not a savage people, but cultivated and educated people, and to show that we can live and adjust to life in European society.
Q: Do you still feel like a foreigner after having lived in Austria after all these years?
I have lived in Austria since 1984 and I have never faced a problem, but I know that others have. If you look at me it is obvious that I'm a foreigner. People know it. I am working with organizations helping immigrants to live a better life in this society and showing them how they can integrate themselves into this society. Principally, I'm trying to make people communicate with each other. I'm trying to communicate in my own way through my art.
Q: Do you think that art can be a bridge between people?
I live in an area in Vienna in which there are not a lot of art galleries and over the last two years we have exhibited the works of twenty four artists, and twenty artists will show their work in the coming two years. This has put me in touch with the community in which I'm living. In the beginning everybody criticized me, saying things like: "What are you doing? This is not an artistic area and people are not motivated to visit your gallery," etc. However, when I am talking to them today they changed their minds and they know that all these "strangers" are coming with peaceful messages. People come and show an interest in the works of art showed in this space.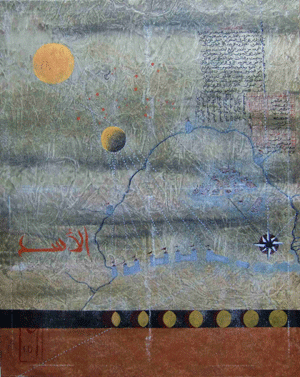 Q: Do you think that art can change the world?
Perhaps I cannot change the world, but I can definitely change my surroundings. Last week we had an exhibition by a Jordanian photographer showing his work alongside an Austrian photographer, together with some of my works. I am proud to say that the local head of the Liberal Party in my area came to my gallery together with the head of the Socialist Party. When they are interested in art and enter my four walls, they forget about politics. I tell everybody: please, once you get inside forget everything and enjoy the evening.
Celhia de Lavarene