Prince Albert II of Monaco, awarded an honorary doctorate at the graduation ceremony of the International University in Geneva (IUG)

Prince Albert II of Monaco, International University of Geneva,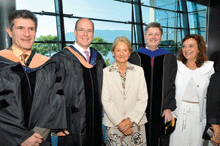 At the occasion of the graduation ceremony of the International University in Geneva (IUG) held on 20 June 2008 at the Grand Hotel Kempinski in Geneva, H.S.H. Prince Albert II of Monaco, was awarded an honorary doctorate in recognition of his commitment to the conservation of nature and the environment. Mr. Patrick Odier, managing partner at the bank Lombard Odier Darier Hentsch was also awarded an honorary doctorate for his engagement in sustainable development within the finance sector.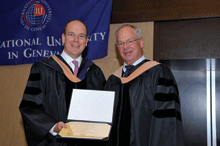 The Doctorate honoris causa was conferred to Prince Albert II of Monaco in the presence of 43 candidates for the Bachelor and Master degrees of Business Administration, Media as well as Communication and International Relations, representing 27 different countries. The ceremony was attended by numerous family members of the candidates, diplomatic personnel as well as other invited guests.
In his commencement address, H.S.H. Prince Albert II of Monaco emphasized the enormous challenges of protecting the environment and focused on such priorities as avoiding dangerous climate change, the need for the conservation of marine as well as arctic resources.
The Chancellor of the University, Dr. Claude Martin, former Director General of WWF International said: "Prince Albert II of Monaco is today a strong and credible force addressing global environmental problems through his commitment and his own foundation. He sets an example for other state leaders to follow".
Among other laureates, the University had in previous years awarded honorary degrees to Sir Peter Ustinov, Dr. Bertrand Piccard, Prof. St?phane Garelli and former Swiss President Adolf Ogi.
The International University in Geneva is an institution of higher learning offering Bachelor and Master degrees in Business Administration, Media and Communication as well as International Relations - a Swiss non-profit foundation with an international student body from 62 countries.