"Sport for all and everyone" – President of Turkmenistan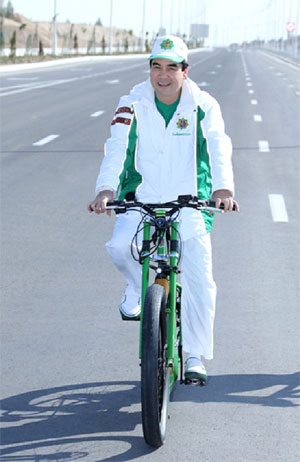 Issues of sport and recreation, high performance sport, modernization and expansion of sport infrastructure are constantly under the undivided attention of the Turkmen leader Gurbanguly Berdimuhamedov. As a passionate supporter and advocate of the healthy life style and setting his personal example to fellow citizens, especially to the young people, the leader of the nation made concerns about health and well-being the main priorities of the state policy.
Sport interests of the Turkmen President are diverse – horse riding, cycling, motor racing, field and track athletics, martial arts, hockey, tennis, etc. In spite of his busy work schedule he devotes time to the active physical training even during the foreign visits. During the weekend the head of state increases intensity of training and power loads. Many Turkmen citizens have witnessed the leader horse riding, climbing the Health Path, jogging long distances and cycling, participating in large-scale sport events and competitions. In addition to that, the President regularly attends gyms and, often, with his associates.
The head of state always says that physical education and sport should become a norm of everyday life of each Turkmen citizen; regular physical exercises increase the work capacity, stimulate dynamic creative and intellectual activity.
Being, as known, a great rider, a connoisseur and expert on beautiful Akhal Teke horses, the President, in his rare free time, choses to spend time with horses and master his riding skills, demonstrating profound skills of an experienced rider.
At the initiative of the President of Turkmenistan, it was decided to set a monument with a sculpture of the famous horse Yanardag, whose image is captured on the National Emblem of Turkmenistan, with foals next to it. This artistic decision will serve as a symbol of succession of national horse-breeding traditions, figurative embodiment of the continuity of the history of the Akhal-Teke breed.
As pointed out by the head of state, the main goal of the state policy in the sport area, which is the most important component of the social policy, is to raise healthy and spiritually strong generations. Sport is the embodiment of strength, beauty, health and aspiration towards new achievements. That is why in modern Turkmenistan sport is gaining more followers, great importance and value in society.
"Sport for all and everyone! As sport is not only physical improvement, but also the spirit of freedom and self-expression! Sport is a world full of joy of discoveries and victories, new opportunities and new higher goals!".
These words and personal example of the national leader Gurbanguly Berdimuhamedov inspire all people of Turkmenistan and guide them to the new heights of progress on the road of health and happiness.